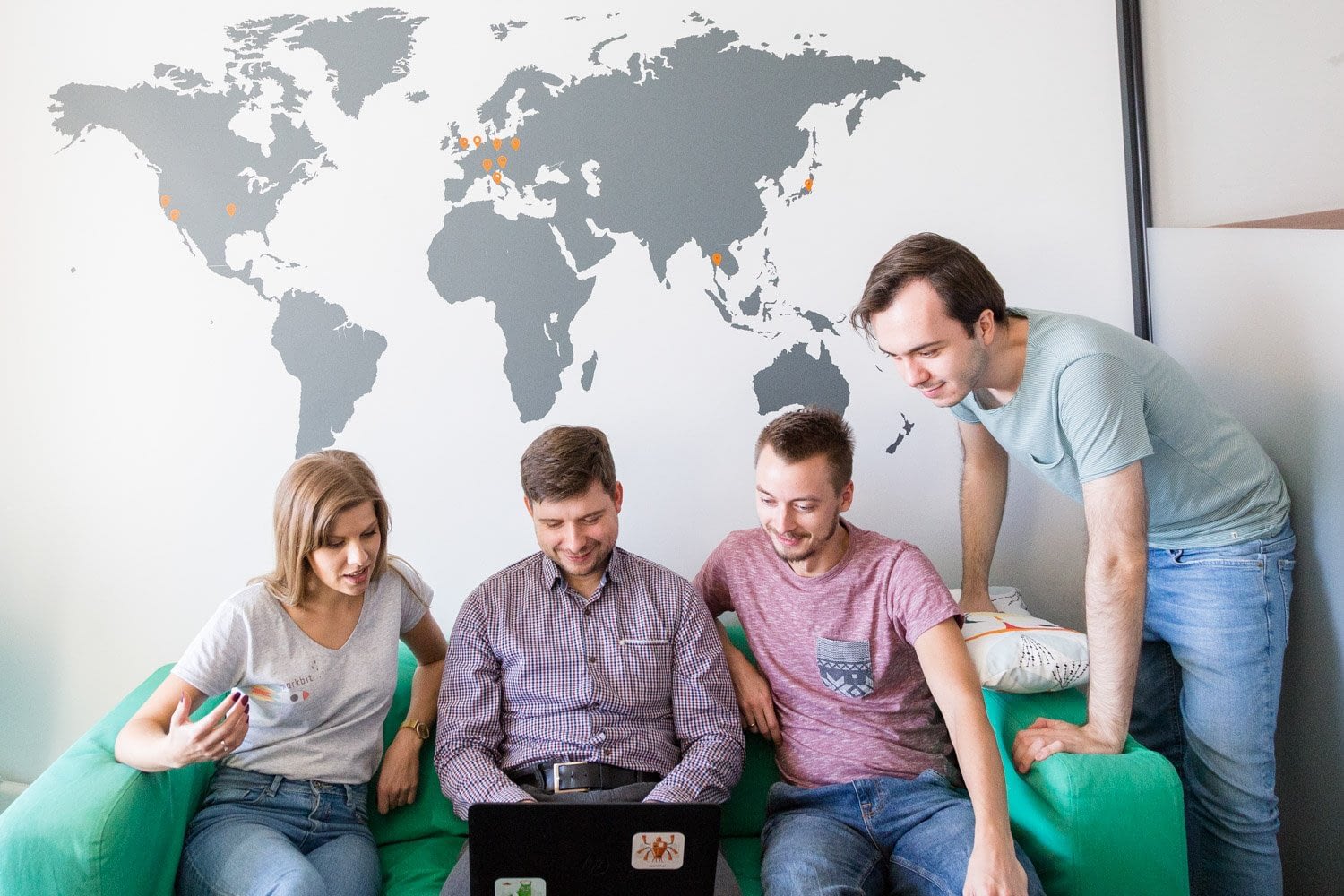 See how we work at Sparkbit!
Are you considering the job change but you are not sure whether a software house is a right place for you? If you don't like the monotony and working on one project is for you boring, that means you're on the right track! In our software house, if you only want to, you would be given the chance to check yourself in many different projects, gain new experience in different areas and develop your skills in new directions and technologies. But in case you prefer working with one customer for a longer time and regular development of his/her product or solution – we will also have a proposal for you.
Would you like to learn more about the work at Sparkbit? Send your resume at jobs@sparkbit.pl and our recruiter will contact you immediately to discuss all the details. Meanwhile, waiting for our call, we invite you to take a look at this post on working at Sparkbit.
Office
We've got two offices at Kabaty next to the underground station. We provide well-equipped workplaces because we would like everyone to feel comfortable and have access to the latest technologies. Do you need specific tools to make your work more effective and easier? We are not a corporation so do not be surprised if you will get what you asked for in three days (the courier needs two days to deliver your product and that's why you will have to wait that long ????). What's more? Aromatic coffee, drinks, snacks and daily company breakfasts.
Would you like to go out for lunch? No problem – we've got our internal app for arranging lunches and a map of the best places (already checked by us). So if you want, you can join our team and eat together. If you are a pizza lover, you will enjoy our Pizza Day for sure! We've got also spacious kitchens for those who prefer their homemade meals.
There are no Casual Fridays because there's no dress code at all. You can wear whatever you want. Do you like your suit&tie outfit? That's ok for us. Do you prefer to wear your dress with a floral print? No problem at all ????.
We are agile and develop our skills constantly
All our projects are managed in Kanban or Scrum. Every morning we have project stand-up meetings during which we discuss the ongoing tasks, help each other in solving problems (if there are such), share knowledge and plan the next actions.
Every Wednesday we have a weekly team meeting for the whole company so that everyone is up to date with what's happening in the office. We talk about the latest trends, discuss interesting cases and solve challenges in given projects together. We also share knowledge – anyone can prepare training or presentation for other developers. In this way, you earn points as part of our Sparkbit development program, which you can spend on conferences, external training or obtaining certificates, which is simply your personal development. We also have a company library with interesting positions from our industry, which we are constantly expanding with the latest worth of reading books.
Everyday routine
Working hours are also flexible with us! Are you an early bird? You can start work at 7.30 am. Do you like to sleep longer? No problem either – come at 10 am! We have only one rule in this matter – during core hours we should all be available (i.e. from 10:30 to 15:30) so that project stand-ups can take place. You can adjust the remaining hours to your lifestyle. We also offer the possibility of two days of remote work per week. We definitely care for the right workflow balance because we know that a satisfied and rested employee is a better employee. We value your time so we don't have overtime. From time to time we also meet in after-hours to play board games together or go out for some company integration.
Technologies and tools
Now it's high time for some technological language ????. Our skills include, among others: Java 8+, Cassandra, Spark, Scala, Kotlin, TypeScript, Angular 4+, React, JavaScript. At Sparkbit you will meet great specialists from the best Polish universities who are willing to share their knowledge.
We start our day with a common breakfast, morning coffee and checking company Slack. We also use our own time monitoring app (Timepot) as well as Jira for project management. As part of our internal system, we also grant Kudos, i.e. praises for help or well-done task.
The Sparkbit team, i.e. who works in a software house
Wondering who works in a software house? Of course, developers ???? But you will meet also other people with less technical skills, which together form a complete team for special tasks. Frontend and Backend Developers, UX/UI Designers, Testers, Product Managers, Team Leaders responsible for the communication with customers, Office Manager or Communication Specialists. Do you want to get to know us better? Take a look at: https://www.sparkbit.pl/about-us/
If you would like to become a part of our team, apply via jobs@sparkbit.pl
All current job offers can be found at https://www.sparkbit.pl/careers/